In response to the rise of mobile payments and Bitcoin, central banks have begun to consider the possibility of issuing central bank digital currencies (CBDC). In terms of the development of digital currencies by global central banks, Cambodia's digital currency maturity ranks second in the world.
Cambodia's CBDC development, second in the world
PWC, an internationally renowned accounting firm, released the "Global CBDC Index" report, which pointed out that in the development of retail CBDC, Cambodia ranks second in the world. Bahamas ranks first. Cambodia's CBDC is called Bakong. Both CBDC have been officially issued. The third-placed China is still in the experimental stage and only tested in a few cities.
According to a Bloomberg report, 60 central banks around the world have begun to study CBDC. Central banks of emerging economies are more interested in retail CBDCs; developed economies prefer wholesale CBDCs. And 70% of global wholesale CBDCs have entered the trial stage, and only 23% of retail CBDCs have entered this stage. CBDC has the characteristics of financial inclusiveness and digitization, which urges Cambodian government to accelerate the development of CDBC.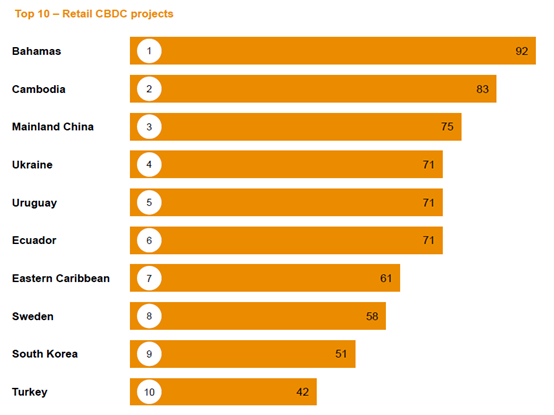 Project Maturity – Retail CBDC development (Source:PWC)
Cambodia, the most suitable for CDBC development
Cambodians are not used to using the financial system. Only 21.7% of them have accounts in financial institutions, 0.6% have credit cards, and 5.7% have mobile cash accounts. Rate of holding mobile devices in Cambodia reached 125.8%. Cambodia's financial services are not universal, but it has a high mobile device holding rate, which is the most suitable for the development of CBDC.

Cambodian financial account holding rate (Source:We are social & Hootsuite)
Cambodia has a forward-looking vision and has deployed a digital currency
In 2012, the payment system was used by Cambodian financial institutions. However, there is still a huge gap for improvement in the interoperability between banks and payment service institutions (PSI). In view of the fact that CBDC is a weapon for optimizing Cambodia's monetary policy and stimulating the economy, in 2016, the Royal Government established a working group to explore blockchain and distributed ledger technology. The Bakong prototype was developed in 2017. Bakong started the trial in July 2019 and officially launched in January 2020, with the support of 11 central banks.
CBDC helps economic development and increases the utilization rate of riel
Bakong can be used across payment platforms. It support rural financial development that can expand the popularity of Cambodia's domestic financial channels. Bakong also provides loans to SMEs and micro-enterprises. High dollarization has always been the shackles of Cambodia's monetary policy. Bakong is beneficial to increase the utilization rate of riel and the number of transactions, and help the Cambodian government to de-dollarize. More importantly, all gold flows are recorded between the central bank and banks to be traceable, effectively reducing financial criminal transactions such as money laundering.
Cambodia has the advantageous conditions for the development of CDBC, which is of great help to the inclusiveness of financial services, as well as the development of Cambodia's economy and financial market.